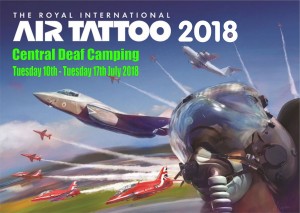 Air Tattoo 2018 – Camping site for Central Deaf Club
Kempsford Camping is a temporary campsite that opens
just for one week of the Royal International Air Tattoo each year.
Central Deaf Camping
CDC is going to book the campsite there
for one week between Tuesday 10th July and Tuesday 17th July 2018.
Book Now
Please email to CDC2013@gmx.com to inform them,
if you are interest to go for one week or a weekend at the Kempsford Camping,
where is the world's largest and most spectacular military airshow campsite for the visitors
to the Royal International Air Tattoo 2018.
Price / ticket for the Air Show
The price for camping site and entrance the Air Tattoo 2018 to be announced in February 2018,
so please book now to avoid disappointed – please remember they sell out very quickly!
More information about Air Tattoo 2018
www.airtattoo.com/airshow2018
2018 Air Tattoo Tickets
Deadline
Wednesday 31st January 2018