Welcome Deaf Camper (WDC)
2021 WDC Rally No.04 – Oakham, Rutland
(Friday 18th – Sunday 20th June 2021)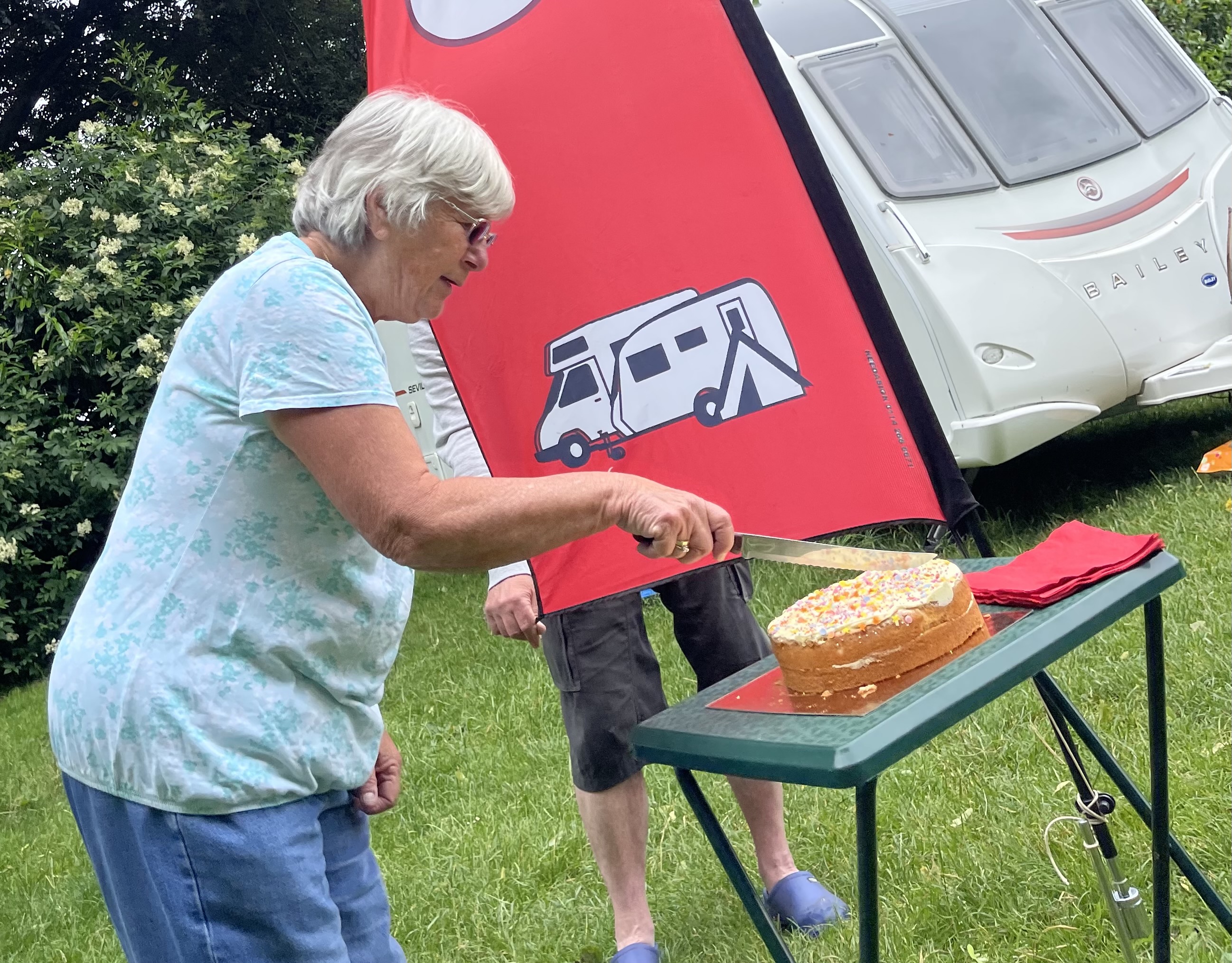 Valerie Temple
Thank you, Valerie for her eleven remarkable years
of support WDC, we absolutely couldn't have done it without you.
and joined the 35th years anniversary of WDC to celebrate with some cakes!
Happy 35th Anniversary, WDC that has been running since 1986 till today here, we all joined to celebrate with some cakes and what a lovely compliment voucher to Valerie Temple who now retired from her volunteer role as secretary for WDC which was much appreciated for eleven remarkable years!  Sylvia Simmonds is our new administrator who will be starting in 2022.
During the weekend there was an important big match between England and Scotland for the Euro2020 Tournament, at the end of the game, it was drawn 0-0.  We visited the nearby town called Stamford, a must see place to visit with some fabulous independent shops to browse, whether food, gifts, clothes, antiques. Stamford has it all in charming warm stone style old buildings and the bridge over the River Wellard to North Sea ensured the success of its trade. Some of them were rambling around Rutland, a great tranquil and rural park set in the grounds of an old manor house with exceptional views across the Rutland Countryside.
On Saturday's evening, we socialised at the nearby pub within 3 minutes walk from our campsite, the bar called The King's Arm – we enjoyed their food – all dishes are cooked from local ingredients and the bar staff were friendly, they used some basic sign languages and were helpful and friendly too. We felt a laid back, relaxed atmosphere.
Archived Photos
Click here to browse the photos of 2021 WDC Rally No.04 – Oakham, Rutland.
WDC's rally – Next One
WDC Rally No.03
At Bexhill-on-Sea, East Sussex is cancelled due only one attendance, so next one in September 2021 at Oxfordshire;
WDC Rally No.04 – The Duke of Clifton, Oxfordshire
Weekend: Friday 17th September – Sunday 19th September 2021
Campsite at The Duke Pub – a 17th Century Grade II listed thatched charming country inn ideally located in the historic Oxfordshire countryside, with easy access to the M40.
Also a good opportunity to be provided a free photography course – a step-by-step quick simple course for anyone who wants to learn how to use your smartphone or camera properly at the site.
Click here for more information and online booking.
Kind Regards
Welcome Deaf Camper