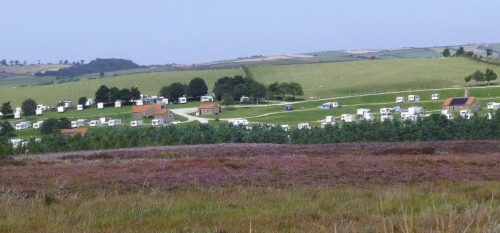 Friday 1st May – Spring bank Holiday Monday 4th May 1987
Our camping and caravan park faces south over a wooded valley looking over folds of heather-covered moorland which provides a natural amphitheatre locally known as "Paradise". 
1987 pitch Address
Grouse Hill Caravan Park,
Flask Bungalow Farm,
Fylingdales,
Nr. Whitby,
North Yorkshire,
YO22 4QH.

Re-name
Grouse Hill Caravan Park & Camping
Map / Direction
YO22 4QH
Website
Grouse Hill Caravan Park & Camping
Marshal
B. Marsden
Site
£3.55 per night

Facilities
Showers, toilets, shop, playarea, lanidry & gas exhange
Archived galleries photos
To be followed –
(PLEASE if you have any archived photos for above to be published, please send your copied photos to secretary@dcccuk.com.)

Back to page:  1987 /  1981 – 1990 / 1974 till today (Archives)