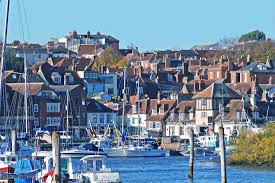 DCCCuk Annual Holiday 2021*
It will be held at Lymington in the New Forest District of Hampshire.
(The organisation event at the site is run by Hampshire DA.)
*Please note
The 2021 DCCCuk  AGM now is postponed, and the update to be followed asap.
Wednesday 4th August till Wednesday 11th August 2021
(One week Summer Holiday and AGM)
DCCCuk AGM
It will be held on Saturday 6th August 2021 at 6pm.
(More details to be followed at the nearest time.)
Marshal :-  To be announced
Location :-
Leylands Farm
Leylands
Vicars Hill
Undershore
Lymington
SO41 5QA
Facilities :-
Bring your own facilities.
This site will be only provided the fresh water and elsan point.
Costs :-
£10.00 per night plus £3.50 per adults* per nights
*requests a membership of the CCC (The Camping and Caravanning Club)
More information :-
– about the site (Leylands Farm)
– The New Forest (website)
Booking :-