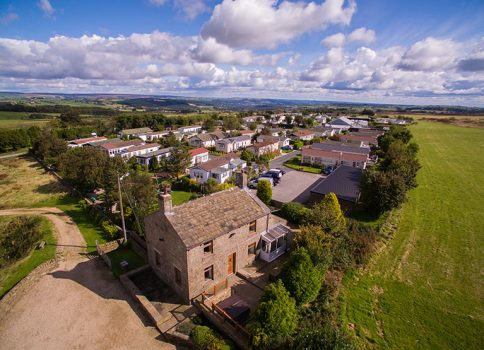 The campsite's view surrounding
Bronte Moors and of the Aire Valley.
## Cancelled due the COVID-19 Coronavirus Pandemic lockdown ##
Friday 5th March – Sunday 7th March 2021
(First weekend of 2021 / 2 nights)
Marshal – Mr B Marsden  Mobile text – 07905909225  email – briankmarsden@googlemail.com
Located
Upwood Holiday Park,
Blackmoor Road,
Oxenhope,
Keighley,
West Yorkshire,
BD22 9SS.
Map /  directions
BD22 9SS.
Website
Upwood Holiday Park
Site
£22.50 per unit per night with hardstanding and electric hook-up.
(First come, first served.)
Facilities
Toilet, shower, toilet chemical disposal, tap water, bar on campsite
Deadline for deposit
Full payment to be booked before deadline on Friday 15th January 2021.
Booking :-
(Either you can book by a slip or online.)
Booking Slip
Online Booking
Others :-
2021

DCCCN Rally No.01 – Keighley, West Yorkshire
## Cancelled due the (COVID-19 Coronavirus Pandemic lockdown ##
Friday 5th – Sunday 7th March 2021
Closing date: Friday 15th January 2021
DCCCN Rally No.02 – Grange-over-Sands, Lancashire
## Cancelled due the (COVID-19 Coronavirus Pandemic lockdown ##
Thursday 1st / Friday 2nd – Monday 5th April 2021
Closing date: Monday 1st March 2021
DCCCN Rally No.03 – Wigan, Lancashire (Open Meeting)
## Cancelled due the (COVID-19 Coronavirus Pandemic – Government's guideline ##
Friday 7th – Sunday 9th May 2021
Closing date: Thursday 1st April 2021
DCCCN Rally No.04 – near Malton, York, Yorkshire
## Cancelled, because of the Castle Howard Traction Engine Show will not take the event this year due COVID-19 Coronavirus Pandemic. ##
Friday 29th  – Tuesday 1st June 2021
Closing date: Thursday 1st April 2021
DCCCN Rally No.05 – Keswick, Cumbria (DCCCN – 20th Anniversary Celebration)
Thursday 24th – Sunday 27th June 2021
Closing date: Tuesday 1st June 2021
DCCCN Rally No.06 – York, Yorkshire
Thurs 30th Sept/Friday 1st Oct – Sunday 3rd October 2021
Closing date: Wednesday 1st September 2021
#