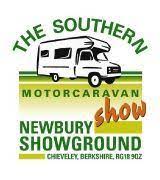 Newbury Showground
The show will welcome motorcaravanners, caravanners and campers from across the UK
to camp on site and to spend three wonderful days enjoying the fantastic trade area and superb evening entertainment.
Thursday 12th / Friday 13th till Sunday 15th May 2005
Motorhome Show Weekend
2005 Pitch Address
Newbury Showground
Chieveley
Newbury
Berkshire
RG18 9QZ
Map / Direction
RG18 9QZ
Website
n/a
Marshal
Raymond Armstrong
Site
£26.00 for 3 nights between Thursday 12th and Sunday 15th May
£24.00 for two nights between Friday 13th and Sunday 15th May
£20.00 for one night on Saturday 14th May.
No electric hook-up provided.
Facilities
Water tap and chemical disposal point.
Archived galleries photos
To be followed
(PLEASE if you have any archived photos for above to be published, please send your copied photos to dcccuk@googlemail.com)
Back to page:  2005 /  2001 – 2010 / 1974 till today (Archives)