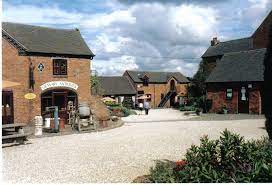 Hoar Park Craft Village
Hoar Park Shopping and Craft Village in Warwickshire.
Set in the beautiful North Warwickshire countryside,
Hoar Park Farm dates back to the 1430's,
with existing buildings dating back to 1730.
These traditional farm buildings form the centre of the craft village.
As well as being a craft, antique, garden centre and children's farm,
Hoar Park remains a working farm covering some 143 acres.
.
Friday 13th October till Sunday 15th October 2006
DCCCuk's AGM at Warwickshire


2006 Pitch Address
Hoar Park Craft Village
Hoar Park Farm
Ansley
Nuneaton
Warwickshire
CV10 0QU
Map / Direction
CV10 0QU
Website
Hoar Park Craft Village
Marshal
David Lewis
Site
£10.00 for 2 nights (full weekend)
No electric hook-up provided.
Facilities
Water tap
Chemical disposal point
Archived galleries photos
To be followed
(PLEASE if you have any archived photos for above to be published, please send your copied photos to dcccuk@googlemail.com)
Back to page:  2006 /  2001 – 2010 / 1974 till today (Archives)