Reported from Central Deaf Camping  (CDC) – December 2002

Welcome the New Year in style
with collection of New Year's Eve lights!
On New Year's Eve, our members at The Unicorn Inn Campsite
celebrated with a lot of enjoyment.
We all get together as a friends on the last day of the year
and wish each other well for the new year!
l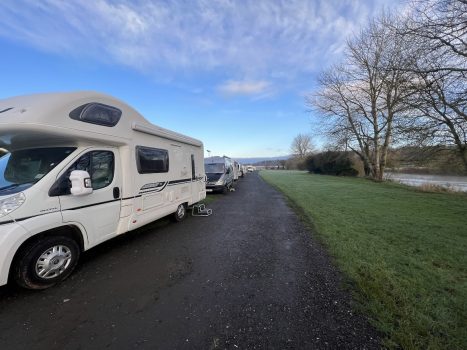 Thursday 29th / 30th December 2022 till Monday 2nd January 2023
CDC Rally No.10 at The Unicorn Inn campsite, Hampton Loade, Bridgenorth.
All units parked in a line near hardground next to the River Severn
because the ground were softy, and there were 23 units together.
K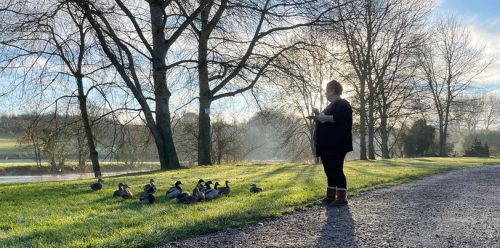 Quack, quack, quack!
Every morning the ducks were enjoyed by feeding
from our members, who set on the banks of the River Severn.
k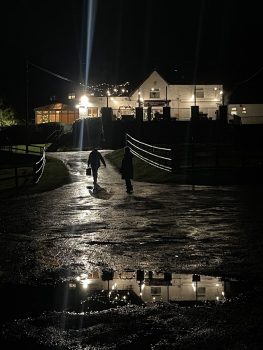 The Unicorn Inn Campsite
Under one minutes walk from our staying to the 17th Century rural pub.
7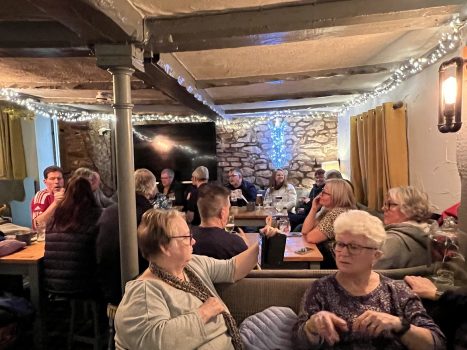 Every Evenings
We all went to pub on site and chatting and laughing with some catching up each other.
k
After the Pub Crawl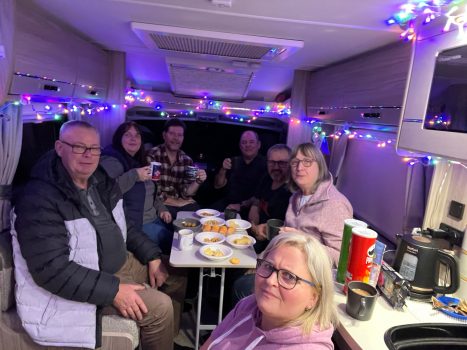 Tea Parties!
l

Whisky Parties!
Joined the caravanning pub crawls, and they played
to explore some of the caravanning quiz games.
k
o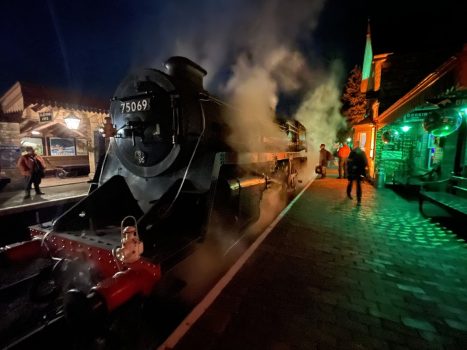 Severn Valley Railway
The Unicorn Inn is located just a few minutes walk from the Severn Valley Railway Station
of Hampton Loade, a heritage steam railway that runs between Kidderminster and Bridgnorth.
So even mostly went on the steam train journey on Friday off to visit the Engine House.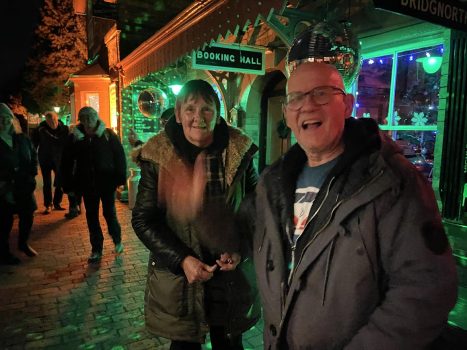 Hampton Loade Station
Yes, very much enjoy a trip back in time and relax in a beautifully
restored trip in a steam train as we travelled between
Bridgnorth and Kidderminster to this station was on our doorstep to our campsite.
y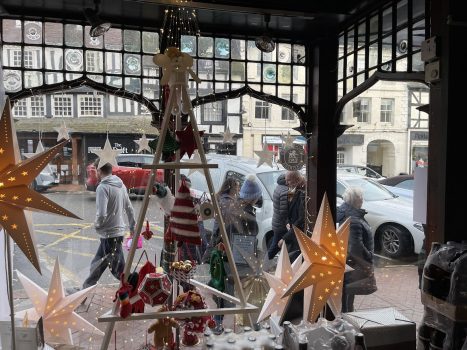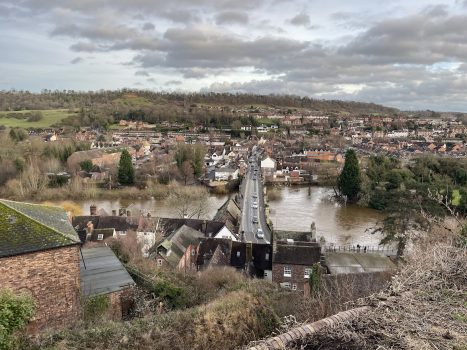 Bridgnorth, Shropshire
One of the most picturesque and fascinating towns in Shropshire, so other members
went to Bridgnorth and the gardens also offer the most wonderful views over Bridgnorth
as well as the Severn Valley Railway, as a great place to relax and take in the atmosphere.
k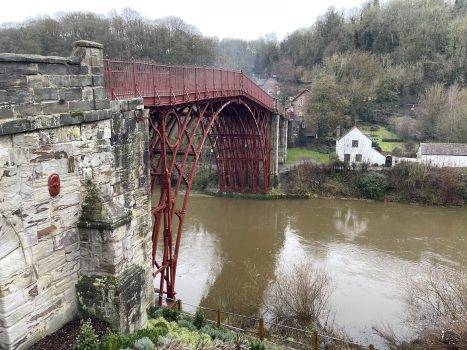 Ironbridge Gorge
Some members went to see the world's first iron bridge
which is the first known metal bridge was erected over the River Severn
at Coalbrookdale in 1779 by Abraham Darby.
This now world-famous industrial monument gave its name
to the town – Iron Bridge, that grew around it and to the spectacular
wooded gorge that was the birthplace of the Industrial Revolution.
k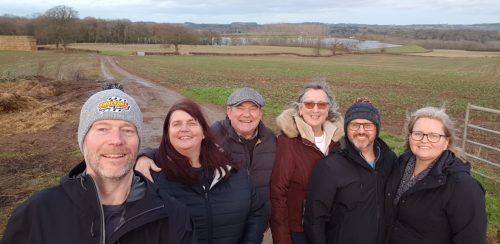 Walked up the road
They found the local pub to have their dinner at The Bull's Head.
k
h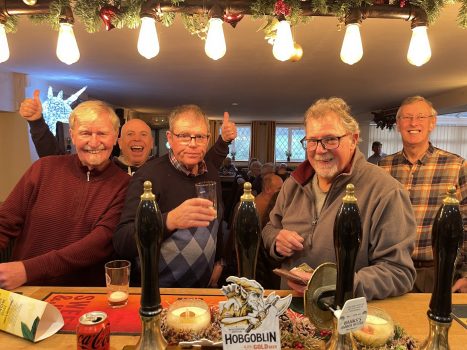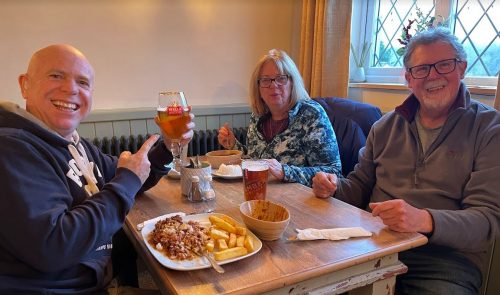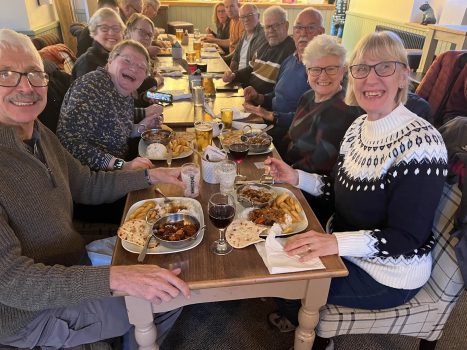 New Year Eve's Afternoon Dinner
All members joined together for the dinner
at Unicorn Inn that they enjoyed with their foods.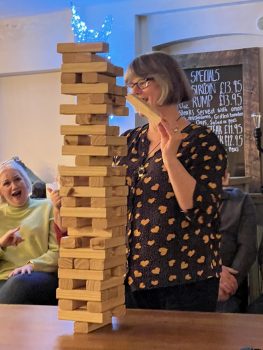 Successfully!
A very concentrate on trying to build up higher without falling,
and others games as a laughing Chinese whisper game,
start a good story but in the end there are fewer and massive different stories!
G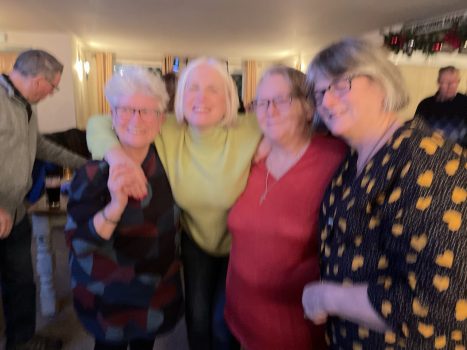 10… 9… 8… 7… 6… 5… 4… 3… 2… 1…
At midnight, when January 1st begun, we entered the new 2023 year.
y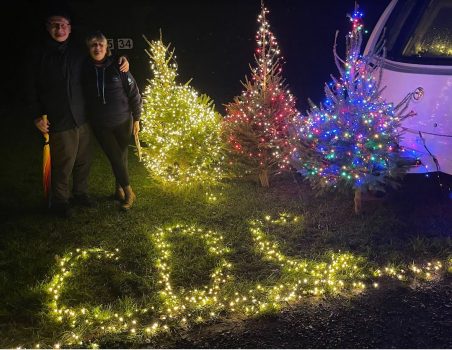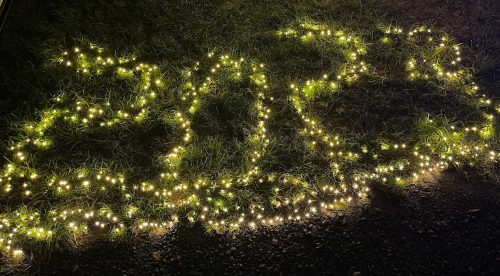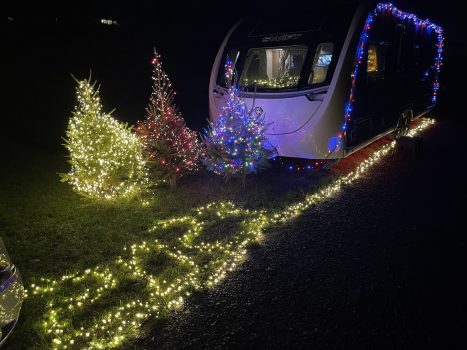 From CDC to 2023 lights
On 2023 New Year Day, we all together again for the Sunday Roast Dinner
at the Unicorn Inn and staying through all night drinking and chatting.
What's so relax and calming from previous wild parties
before they went home next day!
k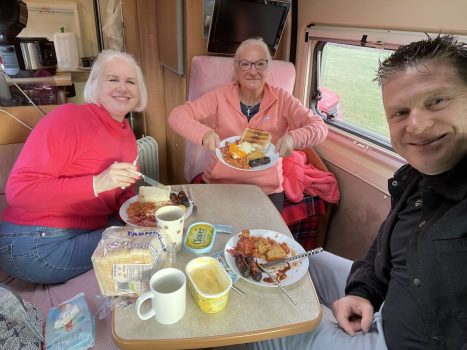 A very first English Breakfast Party in 2023!
Some of our members brought their friends or parents with them,
they found enjoyed themselves very much!

Good-Byes!
On the last day they all went home with
share our memories and gratitude!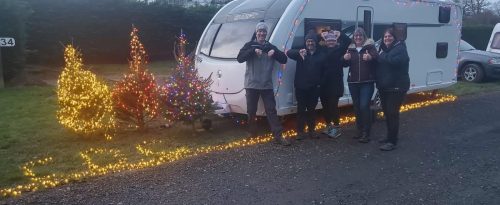 Behave badly!
We think three of them said CDC boo??
h
More photos
Click here to browse more photos of
2022 CDC Rally No.10 – Hampton, Bridgnorth, Shropshire.
,
To all members many thank for joining us, and
we would like to thank you – you all make it successful.
l
Reported from
Central Deaf Camping (CDC)
by Brenda & Graham Jones
(CDC Marshals)